Organic Food Gardens
Organic Food Gardens is committed to improving the sustainability of our cities and suburbs.
One backyard at a time!
Our main focus is helping people sustainably grow food where they live, building a healthy community in the process.  We specialise in creating vegetable gardens to suit your special requirements, using the principles of permaculture and natural composting.
Using  Permaculture to help vegetable garden owners take responsibility for production of their garden and their own backyards and to supplement their diet with real whole foods grown by themselves in a fully supported and natural way.
Wherever you are in Sydney North and the Central Coast please feel free to contact us for any questions you might have on permaculture, vegetable gardens or composting.

Introducing James
James specialises in creating home vegetable gardens, and consulting on permaculture methods and implementation anywhere in Northern Sydney or on the Central Coast.
If you see us around, we love to have a chat and meet people interested in permaculture and everything to do with vegetable gardening and composting your garden.

Costa with James and friends at Fagan Park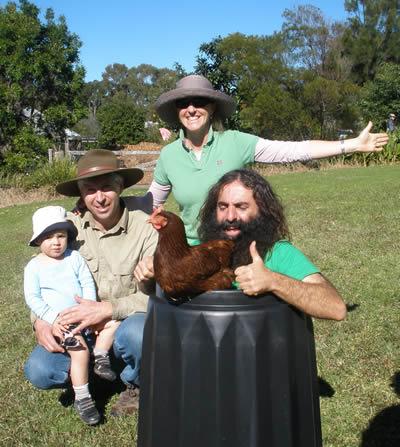 Whether it is in your yard, on a balcony or anywhere else – just imagine eating food this fresh and healthy from your very own vegetable garden.

These images show the Variety of our Projects